Get Support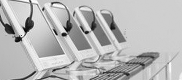 Beowulf Technologies makes it easy to get technical support.
Click Support below to find out how we can help you.
Our Services

Cloud-Based Email Solutions

Email is absolutely critical to your business. Our Hosted Email Solution delivers the best in Microsoft Exchange without the hardware requirements and management overhead. Exchange can give your company many powerful tools... Read More

Beowulf Proactive Maintenance Plan

Reduce downtime, increase profitability, and make your technology work for you. Beowulf is dedicated to keeping your technology investment up and running smoothly so you can focus on your business. You can relax knowing our partnership with your... Read More

Free Network Assessment

Sign up today for a FREE Network Assessment

How secure is your IT infrastructure? Let us evaluate it for free!

Mobile? Grab this Article!